Amazon Prime Serie
Dramaturgie / Schnittregie
Produktion: Pyjama Pictures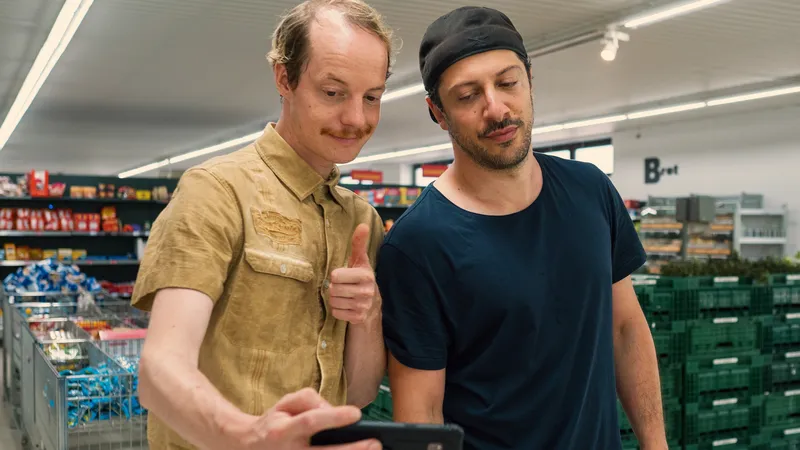 "Die Discounter" © 2021 Amazon.com, Inc. or its affiliates
Feature Film - in development 
Produktion: UFA Fiction & Czar Film
Director: Robin Polák
Writer: Robin Polák & Janna Maria Nandzik
Six people seek refuge after a terror attack in the apartment of a stranger. But the real danger is not coming from the outside.
A Dramedy, an intimate play.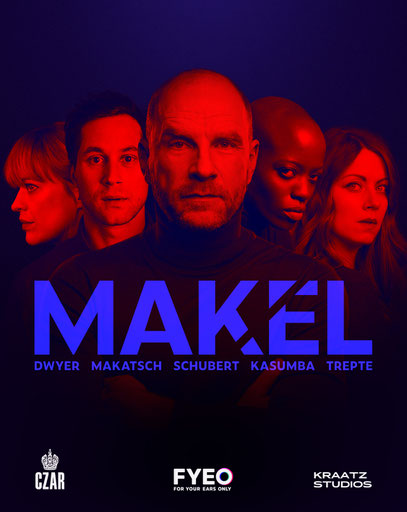 Writer's Room: Robin Polak, Silke Eggert, Lucas Thiem
Regie: Johannes Schröder
Aufnahmen, Sounddesign und Mix: Kraatz Studios Berlin
Foleys: Foley Farmers
Titelsong: Jim Hickey
Casting:  Bünker Casting
Producer: Lucas Thiem, Till Gerstenberger
Production Assistant: Deborah Halbig
Executive Producer: Thorne Mutert (CZAR), Tristan Lehmann (FYEO)
Cast: 

Alice Dwyer, 

Heike Makatsch, 

Götz Schubert, Florence Kasumba, 

Ludwig Trepte, Sabin Tambrea, 

Safinaz Sattar,

 Katharina Spiering, 

Tayfun Baydar, 

Stefan Gossler, 

Judith Steinhäuser,

 

Tyron Ricketts, 

Samuel Finzi, 

Peter Lohmeyer, 

Annekathrin Bach, 

Simon Jäger, 

Ulrich Noethen, 

Jeanette Hain,

 

Uwe Preuss, 

Henning Peker, 

Stefan Titze, 

Kurt Prödel, 

Andreas Berg, 

Katjana Gerz, Florentin Will, 

Martin Neuhaus, 

Mathias Harrebye-Brandt, 

Torben Liebrecht,

 

Asia Luna Mohmand,

 

Joy Grant, 

Heidi Tebroke, 

Jörg Westphal

, 

Anton Weil, 

Inez Bjørg David,

 

Ijoma Mangold, 

Florentin Will, 

Lars Weisbrod, 

Steven Gätjen, 

Anna Bullard, 

Christoph Bernhard, 

Anna Luise Borner, 

Friederike Märtin, 

Oskar Mönch, 

Orakit Moersch,

 

Kristina Dörlitz, Romy Dörlitz, Piet Dörlitz, Wolfgang Windt
Beschreibung
Nora Hamann ist seit Jahren in der forensischen Psychiatrie eingesperrt, als Lutz Koll, ein Ermittler der Staatsanwaltschaft, auftaucht und ihren Fall wieder aufrollen möchte. Nora rekapituliert mit ihm die Ereignisse, die sie hierher brachten: Vor zwei Jahren veranlasst sie ein Schicksalsschlag dazu, nach langer Zeit in ihre Heimat zurückzukehren. Auf der Nordsee-Insel Brekum hat sich seither viel verändert – und auch das Wiedersehen mit ihrem Vater ist alles andere als herzlich. Dr. Christian Hamann ist eine Koryphäe auf dem Gebiet der Neurowissenschaften und entwickelt zusammen mit seiner Geschäftspartnerin Freya die revolutionäre Behandlung "Whitelight". Mit dieser nicht-invasiven Methode sollen fehlerhafte menschliche Verhaltensweisen, Triebe und Ängste (sprich: Makel) einfach ausgelöscht werden. Doch dann zeigt der Vorzeigekandidat des Projekts, Jasper Friedrich, unerwünschte Nebenwirkungen und Nora beginnt, unbequeme Fragen zustellen. Ihr Jugendfreund Arne Claussen, der Brekum nie verlassen hat, unterstützt sie bei ihren Nachforschungen. Schnell wird klar: Die Klinik ist weitaus mehr als nur ein Ort, an dem Menschen geheilt werden sollen. Und auch Noras Vergangenheit lässt sie nicht los. Schließlich muss sie eine folgenschwere Entscheidung treffen…
 Der psychologische Thriller "MAKEL" zieht dich tief hinein in die Ereignisse auf der Insel Bekrum. In sechs Folgen wird die nervenaufreibende Geschichte von Nora erzählt. Besonderes Highlight des Audioblockbusters ist neben der mysteriösen Story die Liste der hochkarätigen Schauspieler, die den Charakteren mit ihren Stimmen Leben einhauchen, unter anderem Alice Dwyer, Heike Makatsch, Peter Lohmeyer, Götz Schubert und Sabin Tambrea.
---
*** WATCH  THE FILM ON AMAZON PRIME ***
---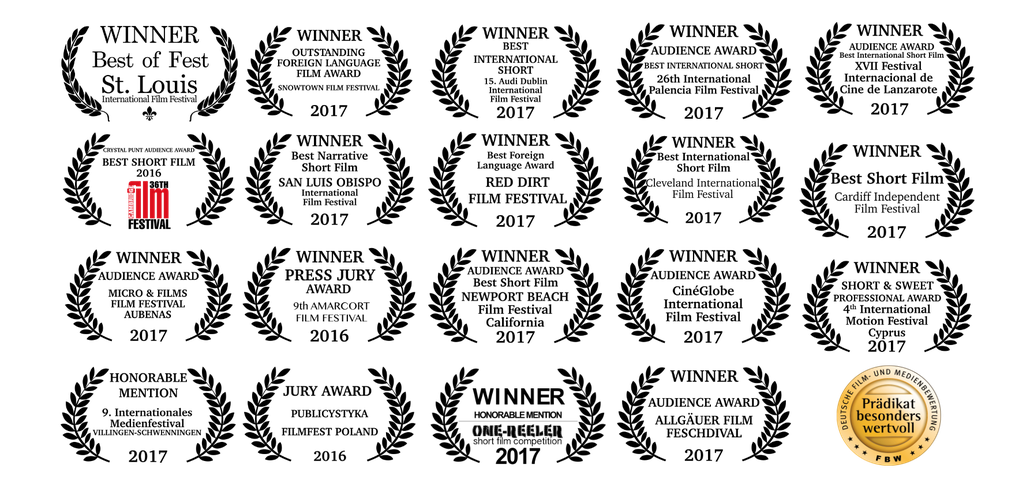 A little boy walks through a toy store full of people talking a strange and incomprehensible language. 
Alone he bonds with a young mother who finds a way to communicate with him without words. 
He is going to tell her something she never expected.
CAST : Heike Makatsch, Noah Papadimitriu, Samir Fuchs, Stefan Nagel, Matilda Florczyk WRITER & DIRECTOR: Robin Polák EXECUTIVE PRODUCER: Jan Fincke, Thorne Mutert PRODUCER: Anja Wedell DOP: Frank Lamm EDIT: Katja Fischer PRODUCTION: Czar Pictures
"Best International Short goes to Robin Polak's Speechless. 
We found it to be a note-perfect exercise in short filmmaking: 
relevant in revealing its uncomfortable truths (but never manipulative), 
beautifully acted and genuinely moving."
JURY DUBLIN INTERNATIONAL FILM FESTIVAL
"A touching reminder of innocence and the power of family"
JULIEN DUBUQUE INTERNATIONAL FILM FESTIVAL
"..Erstaunlich wieviel man in sechs Filmminuten erzählen kann. 
Der alles erklärende Gegenschuss ist perfekt getimt und auch die Reaktionen des Kindes und der jungen Frau sind mit einer Präzision inszeniert, 
die diesen Kurzfilm zu einem berührenden kleinen Drama werden lassen...""
DEUTSCHE FILM- UND MEDIENBEWERTUNG
---
*** WATCH THE FILM HERE ***
---
---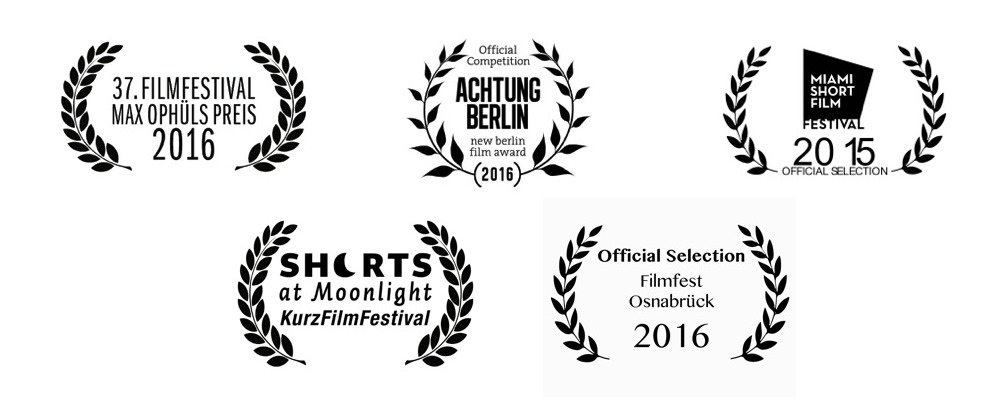 OSKAR FEVER is a movie about a movie. Oskar and his friend Benny meet in a bar to talk about a new script Oskar is currently writing but isn't able to sell it to a production company. Benny wants to help and starts to add new scenes and topics to make the story more suitable for the bigger audience. In his opinion an international successful German film needs to have some Nazis in it and sex, animal babies, tears, violence, action and marginalized groups combined with the German-German history. Oskar on the other hand isn't very fond of Bennys crazy ideas. But after a couple of drinks his point of view changes and the two of them continue their creative process.OSKAR FEVER is a short satire about the stereotypical cheesy dramas and blockbusters German TV and film suffers from. A black comedy about film making. 
CAST : Devid Striesow, Frederick Lau, Arndt Schwering-Sohnrey, Marian Meder, Lena Ehlers WRITER & DIRECTOR: Robin Polák PRODUCER: Benjamin Seikel, Johannes Bittel DOP: Stephan Burchardt EDIT: Alexander Jurkat PRODUCTION: C-FILMS GERMANY
---
CAST : Christian Ulmen, Nora Tschirner, Friedrich Mücke WRITER & DIRECTOR: Robin Polák PRODUCER: Matthias Adler, Pierre Günther, Robin Polák DOP: Frank Lamm EDIT: Katja Fischer